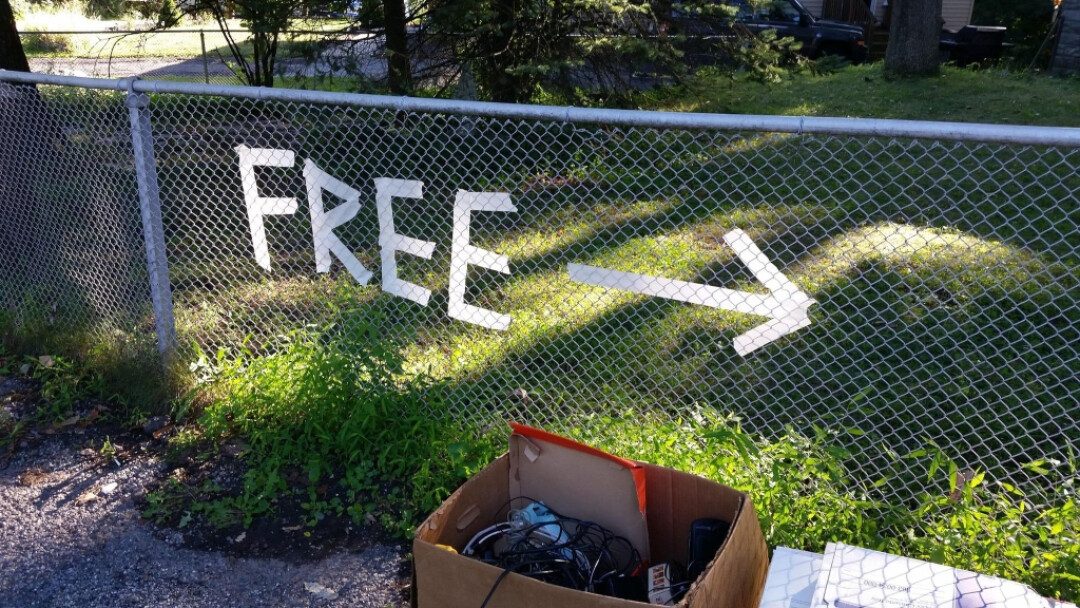 By Glenn Johnson, Lamoni-Heartland USA Mission Center president
… "Take care! Be on your guard against all kinds of greed; for one's life does not consist in the abundance of possessions."
Our congregation decided to launch a monthly "free-for all, all-for-free" event. It was like a yard sale without prices. Everything was free. Our members and friends from around the mission center were generous in their donations of quality used clothing, household goods, toys, and more.
We distributed flyers in the neighborhood. I walked so much in that neighborhood that I literally wore a hole in the bottom of my shoes. The flyers emphasized the importance of reusing and recycling through this event. The whole activity was aligned with our Enduring Principles Abolish Poverty, End Suffering and Sacredness of Creation.
The neighborhood responded in ways we could have never imagined. One woman donated dozens of children's jigsaw puzzles. A homeless man saw that we had lots of surplus metal and connected us with the local scrap metal dealer, and then became a regular helping distribute meals to other friends without homes. Another man, a chef, was looking for items he could use. We noticed the guitars on his shirt. He became a regular cook for our dinners, guitarist in our services, and even taught guitar lessons.
An older gentleman came to our first free-for-all with his son and found a hat that he liked. His smile seemed as wide as the brim of the hat. He was a gregarious sort and chatted with several of us. Our pastor invited him to attend church with us, and he also became a regular. Soon his son and others in the family joined him. His son became our congregation's largest contributor.
In the Parable of the Rich Fool, Jesus tells us of a rich man who built bigger barns so he could store more goods and contentedly say, "Eat, drink, and be merry." He was called a fool, not because he saved wisely, but because by focusing only on material wealth he failed to think of others and failed to reckon with God.
What are we holding onto that we need to let go of? How are we being called to be rich toward God?
Prayer Phrase
Let your Spirit of peace breathe in and through us and guide our way.
Spiritual Practice
Time with God
Sit quietly and let your breathing become calm and deep. Ask God's Spirit to rest on you. See or sense the Spirit anointing you in the form of light, a dove, wind, color, or other images that might come. Ask to become aware of God's love. Listen to the ways in which God wants to flow from your heart as living water. Give thanks that your name is "beloved," that our name is Community of Christ.
Today's Prayer for Peace
Engage in a daily practice of praying for peace in our world. Click here to read today's prayer and be part of this practice of peace.