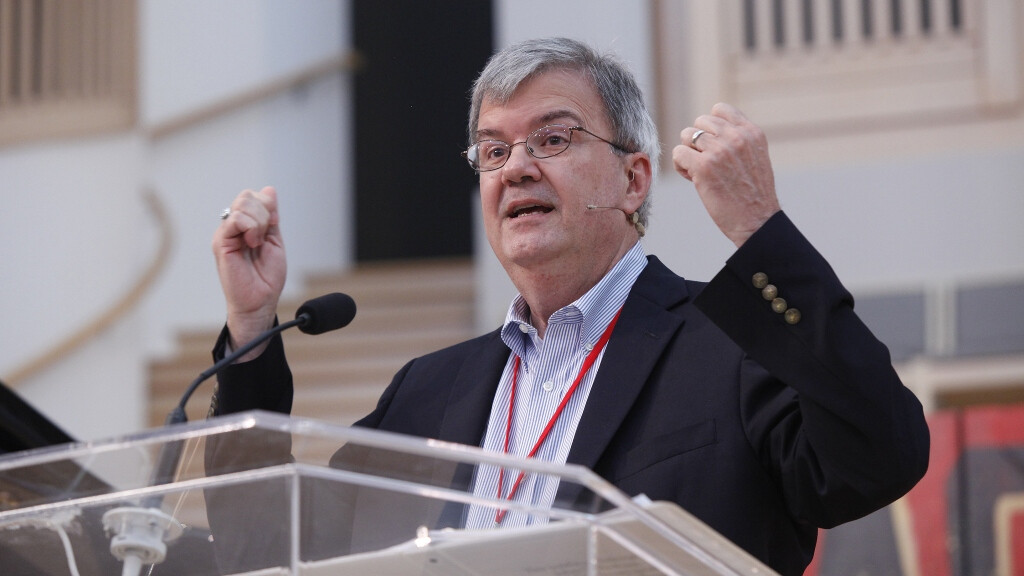 By John D. Thornburg
I greet you in the name of the God who made each of us and who has summoned us together for this great event. I also bring greetings from Deborah Carlton Loftis, the executive director of the Hymn Society in the United States and Canada, and from the Society's executive committee, a committee on which Jan Kraybill has recently served with distinction. It is a rich privilege to have Jan at the organ for this presentation, for there is no one with whom I would rather share this podium.
I must begin by saying that I hardly bring an objective voice to this gathering and to this task. I have been in this Temple twice before; once when the Community of Christ hosted the summer conference of the Hymn Society in 2001, and once on a visit to hear Jan play the Casavant organ. The hospitality on both occasions was rich and wonderful, and so I carry those memories with me.
In addition, I love and honor the members of this hymnal committee with whom I have been privileged to sing and to work over the course of nearly 20 summers, and so naturally I'm inclined to be excited about their work. Just listening to their conversation over the last four or five years has been a treat, as they wrestled with texts and tunes almost as vigorously as did Jacob with God at the River Jabbok. Whether they show any wounds, I do not know. But, I am mindful that they did not invite me to come and praise them. They invited me to talk about what my eyes see in the new hymnal.
This invitation is as wondrous as it is daunting. It is wondrous in that you have decided to trust a cradle Methodist who is much more a hymn enthusiast than a scholar with the work of evaluating this major resource in the life of the Community of Christ. Your ecumenicity, and the hospitality you've offered, are deeply humbling to me. And it's no small matter to trust a Texan with anything. But the invitation is also daunting because, for all I do know about the faith and piety of the Community of Christ, there is much more that I don't know, and so I hope my remarks are more helpful than they are naive.
The truth is that as an heir to the brothers John and Charles Wesley, the leaders of the Methodist Movement in 18th century England, I am bound to report much more than what my eyes see. I am also bound to report what my heart feels. In his magnificent hymn text, Depth of Mercy, which is heart song for Methodists, Charles Wesley wrote these words:
There for me the Savior stands, shows his wounds and spreads his hands. God is love! I know, I feel; Jesus weeps and loves me still.
So, because my Wesleyan forebears encourage me to unite knowledge and piety, I must report not only what my eyes see, but what my heart feels.
Now, I need to hear you sing one of your heart songs, and I am told by reliable sources that The Spirit of God Like a Fire is Burning is a natural choice. So, I invite you to stand as we sing # 384. [Singing followed]
Allow me to state an assumption I bring to this presentation; an assumption which I also brought to looking at the hymnal. Any major initiative being launched in a denomination must speak to the surrounding culture's biases. And the bias most pertinent to the launch of this hymnal is what my mentor, Gil Rendle, calls the culture of self-appointed preferences. The watchword of the culture of self-appointed preferences is, "I want what I want when I want it, and your job is to give it to me."
Since the message blaring from TV and computer screens is, "You can have what you want when you want it," it's all too easy for church communities to be sucked into a culture of self-appointed preferences. So I can imagine that this hymnal committee squarely faced the no-win question which dominates that culture, namely, "What must we do to keep everyone happy? How can we have something in the book that makes everyone happy?"
The problem is that there is no way to create something that receives 100% approval, even if that were a laudable goal . And asking the question "Is everyone happy?" only creates a winner/loser scenario. So, it's necessary to have a different approach; namely, one driven by an overarching purpose. You might call this the culture of God-appointed mission. When I read through this new hymnal, what my eyes see is that the committee asked a different question, namely, "What must we sing in order to say "NO" to the culture of self-appointed preferences and "YES" to the God who frees us for joyful obedience?", and that makes my heart happy.
It's clear that the committee felt that discernment of God's will is central to the church's life together. And so, right in the middle of the Discernment section of the hymnal, we find Holy Spirit, Teacher, Friend (#181). In Joy Patterson's phrase, "Teach our eyes new ways of seeing, minds from time-worn habits freeing," we find words which I think are emblematic not only of the committee's stance, but also of your community's deepest commitments. [Singing followed.]
I am so heartened to see the Community of Christ establishing what's referred to as a core repertoire, and naming both the need for vulnerability in learning new song forms AND the blessing of receiving a clearer "vision of ourselves as part of the worldwide Christian community." (Hymnal Preface). Methodists have talked from time to time about the establishment of a worldwide core repertoire, but now you've given us a living example, and I'm grateful for that.
One of the songs in the core repertoire is the Kenyan worship chorus, Kanisa Litajengwa (#338). The French have an expression, traduire est trahir, i.e., to translate is to betray. That's just a way of saying that translation is a very dicey business, and this song is a great example. When I was preparing to lead this song at an assembly of Methodists a few years ago, I called a trusted friend who is Congolese, and for whom Swahili is his first language. Looking at S.T. Kimbrough's English translation, I said to my friend, "So, the words are a question?" He responded, "Not quite. Kanisa litajengwa is a future tense," he said. "It means 'a church will be built.' It's quite definite. God will build the church. The question is in the words 'Na nini, na nani. They mean, 'By whom, and with what?' I then went on to ask him whether the words of the chorus, 'i-yo-yo' had particular meaning. He emphatically replied, "NO, it just means you are happy!"
The reason I'm so happy this song is in the 'Church' section of the hymnal and in the core repertoire is that it points those of us in the west to an essential truth that we are likely to forget in the midst of watching the institutional church as we know it decline in North America. And here is that essential truth: God will build the church. There's no question. We don't know by whom and with what, but God does. And because this is true, I think it points us toward apparently contradictory stances that the church must take in North America. We must be urgent AND non-anxious; urgent because people are hurting and dying and living out of a destructive story and people of faith must offer the surrounding culture a better story than the one out of which it currently lives; non-anxious because God can be trusted with the future of the church, whether we believe it or not. So let's sing this song. [Singing followed.]
From the minute I was sent the digital files of the book, I've been asking, "What do I see and feel as I read and sing through this collection?" Here are some of my answers to my own question.
I see a book which speaks as much to what the church is called to be and do as to who you have been and currently are. In that sense, the book is prophetically courageous. I told a few on the editorial committee after I first got the proofs that I was writing the word 'gutsy' on lots of pages. But when you follow a Savior who emptied himself, and calls us to do that same, you need songs that show you the way. When you follow a Savior who had an upside-down view of what money and power do, you need songs to proclaim that the Savior has turned the world upside down.
I see a book which gives far more than lip service to the global nature of the church. There are hymns and songs from 50 nations, in 29 languages, many with fresh new translations done for the book. And the naming of a core repertoire makes singing the song of the global church an explicit invitation rather than an implicit hope.
I see a book which unequivocally states the need for the dominant culture to step off its throne of privilege and engage in caring, two-way relationships with the poor. There is no bifurcation between mission and social justice in this book, and while that is not uncommon in recent hymnals, this book walks further into closing the gap between mission and social justice than any book I've seen published in North America. Indeed, other sections of the book (like the section on Calling and Vocation) also call the church into relationship with the poor rather than treating them as objects of our pity. The book is also more courageous in including texts that are explicit in their statement of welcome for the LGBT Christians. That makes my heart happy, but it also challenges me to get with God's program.
I see a book which is up-to-date without just throwing things in because they are new. This includes the categories under which things are indexed . Some of the new or greatly expanded index items are: aging, change, interpersonal conflict, diversity, embodiment, injustice, poverty and prisoners. I'm also humbled that the book has five hymns devoted to "Interfaith Respect", but, given dominant Protestant culture's often skeptical and sometimes disdainful view of special revelation, that's a subject you know something about. I thank you for leveraging your experience in such a helpful way.
I see a book which follows the recent trend in text writing to allow the singer to ask questions as a way of finding her or his way into the great wrestling matches of the life of faith. And there's no greater example of this than John Bell's magnificent text, The Summons.
I see a book which is not afraid to mix longer forms which teach us doctrine, paraphrase scripture and chronicle Christian experience, with shorter forms which create community in the moment. There's some gutsiness in presenting this mix, given that folks accustomed to hymn singing sometimes react to chorus forms by saying, "Is this all there is?" or "How many times do we have to sing this?" I had my life changed when a man in Cameroon, seeing the impatience that some Americans had with the popular choruses, said to me, "I have heard Americans say that time is wasted in singing things repeatedly. But when you do not know where your next meal is coming from, or whether your roof will withstand the next rain storm, or where you will get the money to treat the parasites in your children's hair, and you have the opportunity to praise the God who gave you every breath you have drawn and every morsel of food you have eaten, how can you say it is a waste of time? Time in God's presence can never be wasted." If people in your congregations complain about the short choruses, urge them to consider a shift in the question they are asking. Most ask, "Do I like this song?" That's the question that comes from the heart of the culture of self-appointed preferences. Urge them to consider asking, "How is God using this song to save someone's life?"
There are more things I see, but I'd like to note musically that if we are experiencing radical change in religious culture in North America, and are being invited to embrace religious expressions quite different than our own, we will need to undergird all we do with prayer. Therefore, I'd like to return to the heart song of the Community of Christ, as we sing Let Us Pray for One Another (#186).
I see a book which allows the church and its people to sing lament. I am reminded of an expression that John Bell, uses when talking about singing lament. It is, he says, offering to God the 'worship of our sorrow.' It is saying to God the things we must say in order to be honest about who we are and how we feel. That's healthy and it's necessary.
I see a book which presents some new and interesting text/tune marriages, as we find, for example, at #2 in the collection in which the lovely tune, ICH HALTE TREULICH STILL, usually attributed to J.S. Bach, is twinned with the quite modern English of Brian Wren. I grew up singing this tune with Charles Wesley's text, Jesus, My Strength, My Hope, which has all the 'thee's and 'thou's you'd expect of an 18th century text, and so my primary reaction was that defensive place we sometimes go when encountering the unexpected. But upon singing Wren's text with this favored tune, I realized that the sentiment of the text and the warmth of the tune are quite wonderfully matched, so I appreciate that Jane Gardner spent enough time with both the text and the tune to see how well matched they are in tone.
I see a book in which we actually sing about things that in previous years we only spoke of in hushed tones, like domestic violence, as in Kevin Kell's Come and bring light (#287). As a matter of fact, this is only one of several hymns in the book which make explicit reference to issues of abuse and neglect. Some will squirm at the inclusion of such texts, and some hymnal editors in recent years have excised selected verses from hymns precisely because they had such explicit references to domestic abuse. I'm so glad this committee did not shy away from having hymns about something so clearly repugnant to the Christian gospel.
I see a book with the unmistakable viewpoint that as it regards social justice, "God has work for us to do." (Carl Daw, in Till All the Jails are Empty, #303) Some may bristle at how much space is given in this collection to hymns and songs about justice and fairness, and about walking alongside the poor, but I applaud the committee and the First Presidency for making this such an emphasis. With the continuing disparity in income between rich and poor not only in North America, but worldwide, the church has an important word to say about greed and its long-lasting effects. My heart is deeply encouraged by your commitment to singing of a just world. It's pretty clear to me that the editorial committee took the words of Bryan Jeffery Leech seriously, "Let your heart be broken by another's pain.." (#353).
I see a book that has all the elements of the comprehensive mission strategy enunciated in Jay Goos' hymn We are a family of faith (#350); people who have a Savior, who lift each other up, who leave no one behind, who feel each other's pain; people who are committed to praise the Savior, to build Zion here, to seek peace, and to anticipate the day we come face to face with Christ. It's a great hymn, and it's a comprehensive strategy, and I'm thrilled that all the component parts of that strategy are found in the hymnal.
I see a book whose section on mission has as its overarching theme that we are privileged to live the gospel and to break down barriers rather than that we have something the rest of the world doesn't have and so, as conquering heros and out of pity for them, we take to them what they don't have. This shift in mission philosophy has taken a long time, and there are still real vestiges of it in the whole 'mission trip' movement (which a friend of mine calls the 'vacationers impersonating missionaries' movement), so I'm glad to see that the mission hymns in the book are more about the building of mutual relationships.
I see a book which actually takes seriously the only thing we hate to talk about in church more than sex or politics, generosity. As a staff member of the Texas Methodist Foundation, an organization devoted to creating cultures of generosity, God bless you for having 13 hymns and songs in the Generosity section!
I see a book which has several hundred texts written by people who've lived their whole poetic lives under the umbrella of inclusive language. They give us a look at how beautiful and full of emancipatory imagery texts can be without causing the singer to say, "Hey, God isn't a man in this text!"
I see a book which speaks to the reality in American religious culture that we are shifting from a primary emphasis on what we believe to a primary emphasis on how we live our faith. The generation now emerging is much more interested in how we practice our faith than in getting all the specifics of what we believe lined up. For them, it's about how the practices of faith bring us closer to God, so it's less about being correct and more about being just and faithful and trusting and loyal. We find this reality chronicled in the hymn Too Often, God, Your Name is Used (#342). The poet and the composer are both people who the editorial team run into every summer at Hymn Society gatherings, and I thank God for that intersection. I invite you to sing this now. [Singing followed.]
I see that fifty percent of what appears in the book has appeared in a previous Community of Christ publication, so there are plenty of old friends. But the book has an extraordinary amount of new material in it, and as such, it makes the book gutsy. Congregants often want to see whether their favorites have been preserved, and as an outsider, I don't know what the 'you better not touch these or else' hymns are. But there is a sense in this book that in order to be a book for the 21st century, it should reflect as much as possible the work of those who are currently practicing the arts of hymn poetry and tune composing. Since I'm doing two workshops to present the close connection between the Community of Christ and the Hymn Society in the U.S. and Canada, I can tell you that I could hardly turn five pages in the hymnal without finding the name of a friend on the bottom of the page. This book is a treasure trove of the best of recent hymn writing, and I hope that proves to be a rich blessing.
One of the choruses contained in the core repertoire, De Noche Iremos (#551) is based in a poem by St. John of the Cross in which he speaks of our search for God as being like an overwhelming thirst. This chorus comes from the community of prayer in France called Taizé where, on a summer weekend, over 8,000 young seekers can be found gathered for a sung form of prayer. Those summer gatherings can have people from dozens of nations under the same roof singing the same words and giving their praise and adoration to the same God. De Noche Iremos is only one of fifteen choruses from Taizé in the hymnal, but somehow this is the one I felt it would be best for us to sing. It's in the Pilgrimage section of the hymnal, and so I invite us to sing as those who are on our way to a deeper encounter with the living God. We'll sing until the Holy Spirit instructs us to stop. [Singing followed.]
A hymnal has lots of words. They are the medium through which God works; the raw material of our praise shaped by the way we bring ourselves to worship and made alive through our willingness to allow God to stand us to our full height as singers. As we come to the end of this time together, I want to share some of the words in this new collection which took my breath away or showed me a new insight, or taught me more about who God is calling the Community of Christ to be.
Quotes
9- "Who is God– young or old? Near or far? She or he? All of these and none at all, loving all, loving me." (Brian Wren)
181- "God of wonder, God of thunder, God of impact and release, God of riddle and of reason, God of passion and of peace– " (Shirley Erena Murray)
81- "Teach our eyes new ways of seeing, minds from time-worn habits freeing." (Joy Patterson)
132- "For the wonders that astound us, for the truths that still confound us, most of all that love has found us, thanks be to God." (Fred Pratt Green)
174- "May our learning curb the error which unthinking faith can breed lest we justify some terror with an antiquated creed." (Thomas Troeger)
202- "These hands that flitted over cloth, or roughened while the wood grew smooth, that dug the garden, stirred the broth, sensed when to prod and how to soothe– God as we hold now taskless hands, and help with clothing, care, and food, we pray the soul may understand the things we do in gratitude." (John Core)
204- "A million madres mourn now as rivers flood the shore– O Jesus, friend and Savior, you suffer with the poor." (Carolyn Winfrey Gillette)
210- "God leaves us free to seek him or reject him; he gives us room to answer "yes" or "no." (Fred Kaan)
212- "God bleeds at anger's fist, at trust betrayed, at women battered and afraid, and till we change the way we win, God bleeds.." (Shirley Erena Murray)
224- "O may your church build bridges, Lord, from wounded heart to wounded heart across the crooked miles of pain that truth's distortions still impart." (Evelyn Maples)
308- "The image God made "us" to be is also borne on "them." Christ bids us join our enemy to sing war's requiem." (Adam M.L. Tice)
324- "We need each other's views to see the limits of the mind, that God in fact turns out to be far more than we've defined..." (Thomas Troeger)
334- "Call the young and old together, put the partners hand in hand, speak with liberating power, tell the truth to all the land." [David Gambrell's words seem to summarize who the Community of Christ is if this hymnal is an indicator]
360- "God of the future, calling us forward, thaw our inertia, and wean us from greed.." (Carl Daw)
403- "like a child we will meet, ragged clothes, dirty feet, like a child on the street, Jesus comes; like a child we once knew coming back into view, like a child born anew, Jesus comes." (Dan Damon)
514- "To some it comes as bursting light in this, your special hour; it may come slowly, and in time, as an unfolding flower. However it may come to you, you'll feel God's love and power." (Naomi Russell))
559- "Bless now, O God, the journey that all your people make, the path through noise and silence, the way of give and take.." (Sylvia Dunstan)
570- "God, who calls us to the future and invites us from this place, may the language of our witness use an alphabet of grace." (Barbara Howard)
586- "Will you love the 'you' you hide if I but call your name? Will you quell the fear inside and never be the same? (John Bell)
625- "You are called to tell the story, passing words of life along, then to blend your voice with others as you sing the sacred song..." (Ruth Duck)
What my eyes see, in the end, is a tapestry that has been woven with care. The tapestry depicts the seven songs of the Community of Christ:
the song of the nature and being of the Trinitarian God
the song of our praise to that God
the song in which we fall to our knees to say how we've come short, and hear the news that despite our short comings, we are loved
the song about what the church is called to be and to do
the song of the sacraments of the church, those songs that testify to the way in which God makes God's Self know through common elements and ordinary people
the song of being God's people right here and right now
I read in your statements that the mission of the Community of Christ is "to proclain Jesus Christ, and to promote communities of joy, hope, love and peace." I said earlier that the job of a leader or a community of faith is to give the surrounding culture a better story than the one out of which it is living. In this collection, Community of Christ Sings, you have a book that can help you incarnate your mission and help provide the communities you serve with the best story that the world has ever known.
I end with the words of one of your own writers, Geoffrey Spencer, now alive in heaven. In this text from the Benediction and Sending Forth section of the book, he writes:
Now let our hearts within us burn as with a cleansing fire.
Your gracious Word has stirred in us a surge of new desire.
Should vision fail and courage yield to careless compromise,
then re-direct our falt'ring steps to braver enterprise.
May God grant you peace and courage on the road ahead.
John D. Thornburg gave this address for the launch of the hymnal at the 2013 Peace Colloquy