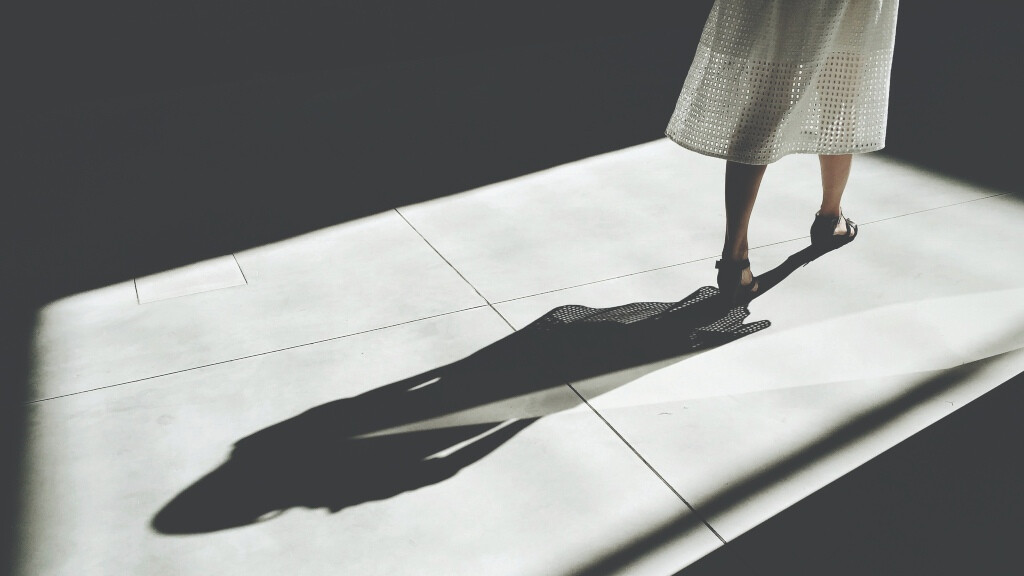 During Holy Week, a symbolic way of focusing on the suffering and death of Jesus is by gradually diminishing the "Light," extinguishing candles until the darkness of Good Friday and Holy Saturday results.
This often is experienced in a Tenebrae ("shadows") service, using a pattern of song stanza, scripture reading, silent reflection, and extinguished candle. At the end of the service, the worship space is left in darkness. Tenebrae services originated in the fourth century. They usually are on Good Friday but sometimes Maundy Thursday.
The hymn, "Shadows Lengthen into Night" (Community of Christ Sings 470), was written specifically for a Tenebrae service by Mary Louise (Mel) Bringle. She is professor of philosophy and religious studies and coordinator of the Integrated Studies major at Brevard College (North Carolina, USA).
She is among many living authors who made important contributions to Community of Christ Sings, with seventeen texts and translations included. She writes hymns not only in English but collaborates with others to translate hymns into English. (See CCS 659, "Now Go in Joy," for an example.)
In a Tenebrae service using "Shadows Lengthen into Night," the congregation sings a stanza, followed by a scripture reading, silent reflection, and extinguishing a candle. The stanzas are based on:
St. 1: Shadow of Betrayal (Matthew 26:20–25)
St. 2: Shadow of Impending Faithlessness (Matthew 26:31, 33–35)
St. 3: Shadow of Unshared Vigil (Matthew 26:36–41)
St. 4: Shadow of Christ's Agony (Matthew 26:42–45)
St. 5: Shadow of Arrest (Matthew 26:47–50)
St. 6: Shadow of Desertion (Mark 14:48–50)
St. 7: Shadow of Denial (Luke 22:54–62)
St. 8: Shadow of the Cross (Luke 23:33–34, 44–46)
A former student asked Bringle to develop the song text by paraphrasing scripture. It is among only a handful of her songs that began by creating "words first" before considering music.
In a recent email, Bringle shared the creation process:
When writing a paraphrase in such compact form, each word becomes very important, and I find myself noticing or imagining my way into parts of the original scriptures that I might not otherwise have focused on so keenly. (Writing a scripture paraphrase is a form of lectio divina, I find.) The anxiety and stress of the disciples became palpable to me as I imagined them "heavy-lidded," falling asleep despite perhaps their noblest intentions. I remember being struck anew by the fact that Jesus greets his betrayer in the garden, calling him "Friend." That one word speaks volumes to me about the actual practice of loving and forgiving those who do one harm. It was also important to me to signal in the last stanza that not just humanity, but "all creation" grieved to witness to sacrifice of perfect love—a grief imaged in Luke's account by the sunlight's failing, even at midday.
A highlight of creating Community of Christ Sings was meeting and developing relationships with living hymn authors like Bringle. We also became acquainted with the music composer for "Shadows Lengthen into Night," Sally Ann (Sam) Morris. Bruce Lindgren, a hymnal steering team member, wrote about this experience in a recent Daily Bread article.
I was standing at the luggage carousel at the Columbus airport with several members of the Hymnal Steering Team from Community of Christ Sings when another member of the team introduced me to Sally Ann Morris, also waiting for her luggage. Morris looked like any other traveling person waiting for luggage on a Sunday afternoon, but I was familiar with her work as a composer of hymn tunes. She wrote tunes that are sung with 15 hymns in the new hymnal. …Since I listened to lots of hymn tunes while working on Community of Christ Sings, I knew her work well. It was a joy to meet her, just as it was a joy to meet a good number of other composers and text writers whose work I had come to know and appreciate. Each one was unique, but each was the same in one important way: No one gets rich writing hymns. As a result, each one lives an ordinary life doing something else.
Sally Ann Morris is director of Music Ministries at Parkway Presbyterian Church in Winston-Salem, North Carolina, USA, and chapel musician for the Wake Forest University School of Divinity. In a recent email, Morris said:
It was important to me in composing this tune [ "Shadows" ] that it be very simple to learn and memorize yet carry the motions and emotions of the story. The text places us in the story as witnesses and participants, therefore my hope is that the gathered assembly can enter into this hymn as an immersive experience…

The accompaniment is simple and spare, and in the refrain it sustains the drama by suspending the word lengthen over the lowered second before the resolution to the tonic on night.
Both Mary Louise Bringle and Sally Ann Morris emphasize that this song never was meant to be sung "straight through." The significant pauses for scripture reading, silent reflection, and candle extinguishing complement the story in each stanza.
As we enter Holy Week, let us be reminded again of these sacred stories. As "Shadows Lengthen into Night," may we sing our way into the darkness where we await the Light of resurrection.