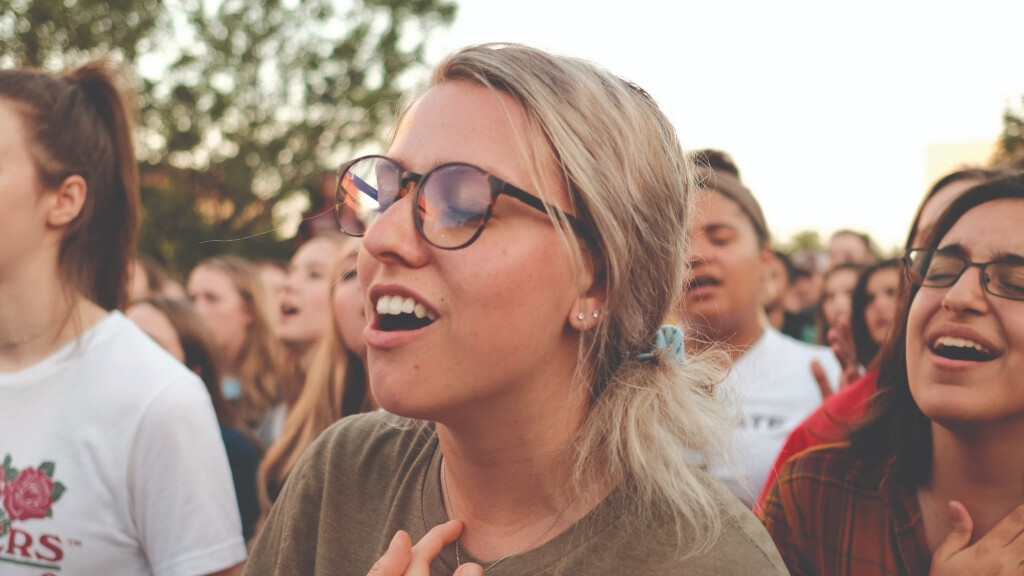 By Jane M. Gardner
Presiding evangelist
Peace is not a glass of lemonade, a hammock, palm trees, and soft ocean breezes on a sleepy, sunny afternoon. Those seeking a permanent, stable condition will be doomed to disappointment. Said one writer, "Peace has to do with personhood, not property or comfort or convenience, or ambience." Healthy personhood recognizes the inestimable worth of all souls and their interconnectivity. Healthy personhood calls for a mutuality of life that inspires loving response and sacrifice on behalf of those whose plight or circumstance is wanting. God's peace is never only a negative state, never just the absence of trouble.
Belrose, former presiding evangelist, wants those who sing this hymn to realize it is a call to action.
Often peace is sanitized and neutralized. As you sing the words and the phrases "burn within us," "fan the flames," "filled with passion," and "spark within us," there is a sense that something more discordant or unsettling is afoot. Each stanza focuses on some aspect of peace as described by Belrose:
Stanza 1—Opinion is not enough. Words are not enough. Equity calls for action.
Stanza 2—The focus is children. Free them. They have hopes. Adults are called to recognize children have hidden gifts in need of development.
Stanza 3—A wakeup call—our talk must become our walk. A tendency to withdraw inwardly can prevent us from sharing Christ's peace.
Stanza 4—The focus is hesitancy and fear. Sharing the peace of Jesus is not always comfortable. We often lack confidence and shrink from situations that call for confronting conflict.
Stanza 5—A zeal for Zion's shalom—to embrace creation's greatest good. We have experienced shalom in part but are commissioned to go deeper and share Christ's peace with others ("every nation, tribe, and home. …All are welcome, all are honored, no one's value underpriced").
As the Community of Christ Hymnal Steering Team considered this text anonymously for inclusion in the hymnal, we heard echoes of the church's Mission Initiatives and Enduring Principles: Develop Disciples to Serve, Worth of All Persons, All Are Called, Sacredness of Creation, and Pursuit of Peace (Shalom) to name a few. The text was adopted quickly.
The issue then became the music to be paired with the text. A lively debate ensued. For a hymn with the title, "Peace of Jesus," shouldn't the music be peaceful and sweet? But didn't the active, jarring text demand something more musically unsettling or rhythmically challenging?
This discussion continued for weeks and finally ended with a compromise.
The tune, "Blaenhafren," was chosen to reflect the movement of the text. However, in the bottom right corner of the hymn, an alternative tune, "Hyfrydol," by Rowland H. Prichard, is suggested. This alternate tune is much more mainstream and familiar to most singers. It's in a major key and quite comfortable to sing. On the other hand, the tune printed with this text, "Blaenhafren," is in a minor key and includes dotted rhythms that are more complicated.
With a marching beat and the contemplative nature of a minor key, this tune illustrates Belrose's call to movement and action. Singers will need to pay close attention and work a little harder to convey the message of the text.
Both tunes are from the Welsh tradition.
Belrose used Daniel Day Williams to summarize his hope for the understanding of his text:
Peace does not put everything to rest; it puts everything in motion. Peace does not end all risks; it accepts every risk that is necessary for its work. Peace does not resolve every conflict; it accepts conflict as the arena in which the work of peace must be done. Peace does not neatly separate the good people from the bad—peace seeks the reconciliation of every life…so that it may share with all others.
Just like active peacemaking, "Peace of Jesus" is worth the effort to go beyond what is comfortable, neutralized, and sanitized. Take time to learn it and notice what you are professing as you sing. The peace of Jesus Christ is disruptive and challenging in a good way.