Monthly Tithing Update
The 2021 goal range for Worldwide Mission Tithes is $11.7-$12.7 million USD. Worldwide Mission Tithes reported through 30 June were just under $5.5 million, which is within the goal range of $5.4 to $5.8 million for that same period.

Thank you to those around the world who faithfully support both Local and Worldwide Mission Tithes.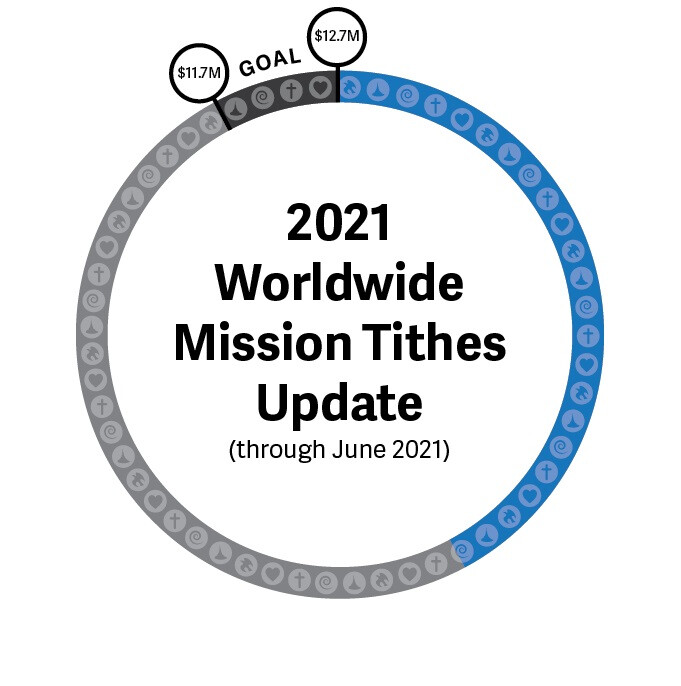 Bridge of Hope Update
The Presiding Bishopric is grateful for the ongoing work in the various Community of Christ fields to meet the Bridge of Hope targets that are part of the $120 million USD retirement responsibility goal. We're getting closer, with $25.8 million USD remaining!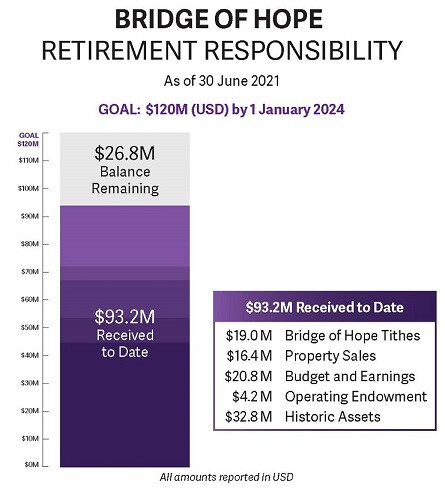 Presiding Bishopric Financial Update
The Presiding Bishopric has released the December 2021 Financial Update. In this update, you'll find important information about mission tithes, Bridge of Hope Tithes, and financial projections and trends.
A few highlights:
In September, the World Church Finance Board approved the 2020 independent audit report for Community of Christ and consolidated affiliates. A summary can be reviewed online.
Thanks to the generosity of many, Worldwide Mission Tithes are projected to be within the 2021 goal range of $11.7 - $12.7 million.
As of 30 November 2021, the church had raised $94.2 million toward the $120 million Bridge of Hope retirement responsibility goal.
Over 710 individuals and families generously supported Giving Tuesday on 30 Nov with $676,432 for Worldwide Mission tithes including $295,000 of matching contributions.
In 2021, leaders are guided by feedback received from two USA surveys related to generosity and funding local and worldwide mission and services.
On December 4, 2021, the World Church Finance Board approved the 2022 Worldwide Mission Budget continuing ministries and services provided in 2021. The 2022 budget is based on at least $11.06 million for Worldwide Mission Tithes in 2022.
There's still time to support worldwide mission in 2021. Make a year-end gift to Worldwide Mission Tithes.
Read the entire financial update.
Calendar Year Budget
Review the Calendar Year 2022 summarized budget released by the Presiding Bishopric
Audit Report