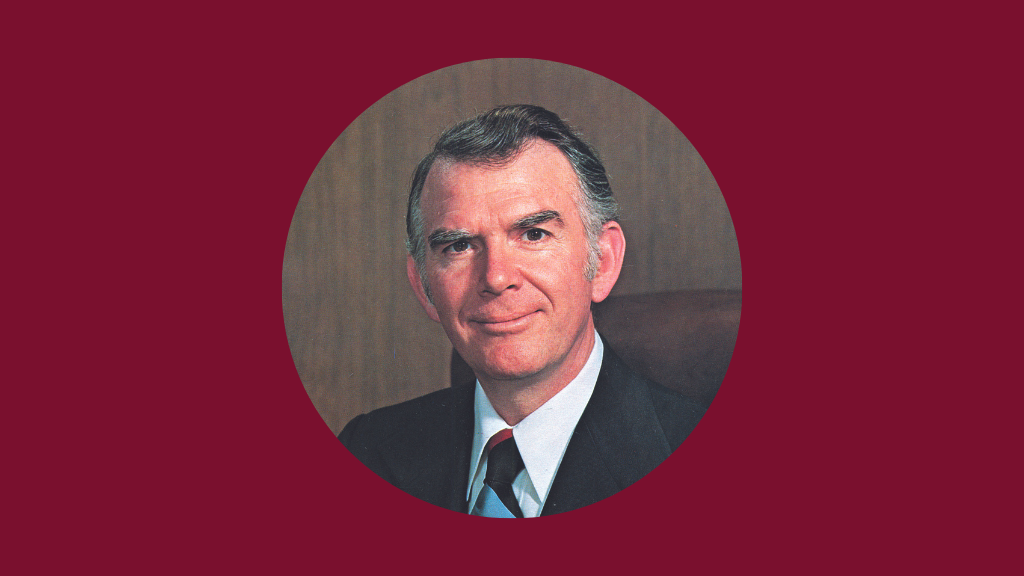 On 8 October, Community of Christ members gathered to celebrate the life of President Emeritus Wallace B. Smith in a service at the Temple, 201 S. River Blvd., Independence, Missouri, USA. The event was streamed on our YouTube channel.
Wallace (Wally) Bunnell Smith, 94, of Lee's Summit, Missouri, died September 22, 2023. He was born July 29, 1929, in Independence to W. Wallace and Rosamund (Bunnell) Smith. His older sister was Rosalee. The family moved to St. Joseph, Missouri, and then Portland, Oregon, where Wally graduated from Grant High School in 1946.
He earned an associate degree from Graceland College in 1948 and a bachelor's degree from the University of Kansas in 1950. After completing his Doctor of Medicine degree from the University of Kansas School of Medicine in 1954, he served in the Navy Reserve and then in active duty as a lieutenant junior grade and lieutenant until 1958.
He practiced ophthalmology for eighteen years before becoming a full-time minister. He served as prophet- president of Community of Christ from 1978–1996.
He guided the church through an era of seismic change that included building a Temple dedicated to peace, welcoming women into the priesthood, opening Communion to all Christians regardless of denomination, and expanding eligibility for the role of prophet-president beyond the Smith family.
The Life and Ministry of Wallace B. Smith
Women now hold offices throughout the priesthood structure and church leadership. Gail Mengel and Linda Booth were the first women to serve in a leading quorum. They were ordained in 1998 as apostles and members of the Council of Twelve Apostles. Other women who are notable firsts include Becky Savage as counselor to the First Presidency, Stassi Cramm as presiding bishop, Linda Booth as president of the Council of Twelve Apostles, Jane Gardner as presiding evangelist, and Karin Peter as senior president of the Council of Presidents of Seventy. Currently ten women serve in the church's leading quorums.
"President Emeritus Smith's prophetic leadership forever changed the course of my life," Cramm said. "His courage in leading the church to accept the ordination of women allowed me to serve God and support the church's mission in ways I never imagined as a young girl. I am forever grateful to him for the opportunity of priesthood ministry that his visionary leadership created for me and other women."
Mark Scherer, former World Church historian, said the ordination of women was immediate and thus somewhat controversial. "His prophetic courage demonstrated proactive leadership rather than reactive hesitance."
Before 1994, only church members could receive Communion in Community of Christ services. In addition to enabling more people to share the Lord's Supper, the change made Community of Christ more inviting to guests and seekers.
Former Presiding Evangelist David Brock said, "The decision to open our Communion practices to include all baptized Christians who wish to remember their covenant was a tangible expression of major shifts in our understandings of what God was doing in the world and of what role we as a faith movement were being called to fulfill." Brock explained that Wally helped create the climate for conversations. "We now affirm deeper and broader truths as we kneel with Catholic and Protestant and Pentecostal to affirm each other's worth, well-being, and authority."
Wallace B. Smith Celebration of Life Service
Wally traveled extensively. He said he enjoyed, "preaching, teaching, and benefiting from observing the myriad cultural differences that members of the church represent." His wife, Anne, accompanied him on many occasions.
Building healthy communities and alleviating hunger and poverty were just a few of his passions.
The American Lung Association, Truman Heartland Community Foundation, Independence Regional Health Center, and Bread for the World were among the organizations that benefited from his leadership and wisdom.
In retirement, Wally volunteered as a hospital chaplain, accepted occasional guest-ministry requests, spent lots of time with family and friends, and returned to his former hobby of painting.
He is survived by his wife, Anne; daughters Carolyn (Hugh) Wells, Julie Smith, and Laurie (Rick) Monsees; and grandchildren Jillian (Andrew) Barreto, Teppy Dimmitt, Melissa Dimmitt, Sabrina Monsees, Luke Monsees, and Collin Monsees.